I never realized how much a carpet could add to the overall feel of a room until I switched from my old, beat-up carpet in my bedroom to laminate flooring. The room just feels so much brighter and more cheerful when you have that extra layer of light reflecting off the floor. Plus, it's easier to clean up any messes with laminate!
I always thought it was a trade-off between having carpet vs laminate in bedroom, but now I know they both have pros and cons. If you're on the fence about which one is right for your space, make sure you read this blog post!
About Carpet and Laminate
Let me first introduce you to these flooring types before going deep into their pros and cons.
Carpet
Carpet is a versatile flooring type that can come in many different styles, colors, and patterns. Due to its woven fiber material, carpets can absorb sounds, bring additional warmth, and feature a non-slip surface.
Carpet fibers offer four main types, including nylon, olefin, polyester, and wool. The type you choose should depend on your function within the room, and how much traffic it sees each day – after all, no one wants their carpets destroyed because they're just not strong enough to handle constant wear!
Nylon is perfect for homes with pets and children because of its durability and stain resistance. It's also a great choice if you want to protect your carpet from heavy traffic areas, such as hallways or stairs.
Polyester is the ideal fabric for those who want a luxurious look and feel, and also great in rooms that see normal traffic!
Olefin is stain and moisture-resistant and appropriate for commercial use.
Wool is a natural, well-constructed fabric that has soil resistance qualities. It's a wonderful material that will last you for years and is perfect if appearance matters to you!
Laminate Flooring
I'm not sure if you know this – Laminate flooring is a lot more than just plastic! Laminates used to be that way, but most of them now feature four layers:
The wear layer is also the topmost of three other layers that protect your laminates against surface burns, fading, and stains. This transparent coating uses aluminum oxide to guard your laminate against those harmful aggressors so you can enjoy a long life with minimal care!
Next, the design layer gives laminate the appearance of wood. This high-resolution image positioned beneath the transparent wear layer creates this look and feel for your space to have an old-world charm with modern comforts in place as well!
The core layer is composed of durable and high-density fiberboard. It also offers moisture resistance for the laminate flooring.
Consequently, the back layer can help you avoid moisture from seeping through. At the bottom-most, this foam padding can give you an even and balanced floor.
---
Differences Between Carpet vs Laminate In Bedroom
In this section, I will walk you through a comparison between two floorings based on certain factors.
Durability
With a few exceptions, most carpets will last five years on average, while some luxury designs can go up to 15 years! Laminate may need replacing in 10-15 years or less for some cheaper styles, though!
Similar to laminate, carpets also have a lifetime of somewhere from 8 to 15 years. Its durability mostly depends on the type used (as mentioned above). Typically, nylon carpets are more long-lasting than polyesters, and polyesters are more than olefin!
Maintenance
Carpets can be almost challenging to keep clean, especially if you have children or pets in the house. If spills happen often, you have to use some sort of treatment – including steam cleaning to get rid of stains. 
To make sure that your carpets stay fresh and free from allergens like hair, dust, vacuuming will always come back as a must.
Laminate flooring, on the contrary, is a great choice for pet owners who want to keep their houses clean and neat. There's no vacuum required, as the messes can simply be swept up with ease! 
It makes it easy on parents whose children love making mischief. They won't have any trouble cleaning up after them because laminate doesn't require much maintenance at all other than occasional mopping.
Still, it's worth noting that laminate can easily be damaged. It's a great surface for those who want to avoid fussing with vacuums and pet fur, but scratches will eventually appear. Therefore, make sure they're kept healthy by trimming your pet's nails regularly!
Installation
Carpet is a great choice for almost any floor, but it looks its best if professionally laid. In comparison, you can put down laminate quickly in a single room without the need for support!
Design Varieties
There are so many different choices when it comes to flooring, whether you want carpet or laminate. There's something for every type of personality and style in this vast selection!
The best way to create a luxurious feel in your home is through the carpet. It's warm and comfortable underfoot, which makes it ideal for bedrooms. 
Laminate flooring also has the ability to make an impact on any room, especially if they're made out of tiles, hardwood, or marble – there really isn't anything these floors can't do!
Price
When it comes to the price, which flooring type is cheaper depends on several factors, including the quality of materials and size of the room. No matter how much they are, both floorings are almost cheaper than real hardwood and stone but still bring good value for money.
Luxury high-pile carpets will typically cost more than laminate flooring. Yet, there are still many available carpet options on the market for you to choose from, and surely it's less expensive to furnish your small room than a larger space.
It will be a mistake if I do not mention the fitting fees, though DIY enthusiasts may enjoy installing laminate that is easy to snap into position.
Soundproofing
Another significant benefit of carpets I would mention is their soundproofing properties. Due to the padding, this flooring type is more effective than other flooring options at masking outside noises.
Unfortunately, laminate flooring has no soundproofing or insulating benefits. In fact, laminate can amplify outside sounds by echoing vibrations in a way that is commonly referred to as "hollow." As a result, this flooring type is frequently not recommended for babies' bedrooms.
Insulation
Heat loss in bedrooms during the cold can make sleeping difficult. Carpeting also has the added virtue of being insulative. The room will maintain its heat and keep the sleeper warm and snug during your winter nights, particularly if you add a cushion under the carpet.
Carpets can easily save roughly 10% of the heat lost if you have smooth floors. As a result, they can help save you money on electricity while keeping you warm when you need it. Not only that, but carpets can also postpone the period when you turn up the heat, saving you 4-6% on heating bills.
On the other hand, laminate provides almost little insulation or cost-saving benefits when it comes to heating.
Protection For Falling
The carpet features a padded surface, which is particularly useful in children's play areas and bedrooms. Besides, the old and others with mobility challenges who are prone to falling benefit from this significant "pro" of carpeting. To improve this asset, you can install a pad under the carpet.
If you plan to install laminate in your kids' bedroom or a room where seniors will be present, you should be aware that it provides no protection against falling. Laminate floorings are harsh and do not offer any cushioning when someone trips or falls and lands on them.
As such, if you intend to use laminate in the bedroom for youngsters and the elderly, place an area rug over it to cushion anyone from falling.
---
Carpet vs Laminate – Which Is Better?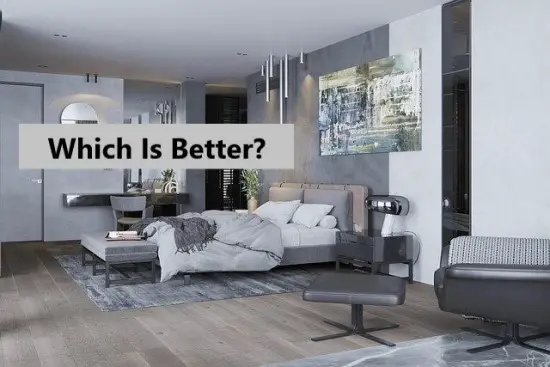 Carpeting is ideal if:
The bedrooms belong to children, the elderly, someone who is prone to falling, and those who have no asthma symptoms and allergies.
You don't have pets or are willing to vacuum the carpet areas on a regular basis to maintain them free of pet hair.
You live in a location where winters are severely cold, and you require the extra insulation that only carpeting can provide.
You intend to soundproof the bedrooms to make them more peaceful to sleep.
Laminate would be better if:
The bedrooms belong to those who have allergies or asthma.
The bedrooms will be more likely to spill.
You don't be bothered or have no time to regularly vacuum away pet fur.
You don't have to be concerned about someone tripping and injuring themselves.
You're on a tight budget.
You're a DIY enthusiast.
---
Conclusion
I have been living with both types of flooring for quite a long time now, and I feel like it is time to make a decision on which one is better – carpet vs laminate in bedroom.
The great thing about the two options is that they are very different from each other, so it really comes down to what you prefer as an individual.
My personal opinion is that laminate would be best for me because it has less wear and tear but also looks more elegant than carpet does! So maybe give those ideas some thought when deciding what type of flooring you want in your home too!
Related Post: