What are the ingredients in Fabuloso? Fabuloso is a very popular multi-purpose cleaner. However, you are not sure that all ingredients in it are safe for your family? Don't worry. We will find out your desired answer to that question together.
What Are The Ingredients In Fabuloso?
The ingredients in Fabuloso are:
Water
Sodium Dodecylbenzenesulfonate
Sodium
Fragrance
Colorants
Sodium C12-15 Pareth Sulfate
C9-11 Pareth-8
Glutaral
Sodium Laureth Sulfate
Citric Acid
Among these ingredients, C9-11 pareth-8, Sodium C12-15 Pareth Sulfate, and Sodium Laureth Sulfate work as cleaning and foaming agents. Glutaral, Citric Acid, and Colorants are essential to maintain the shelf-life, acidity balance, and Fabuloso cleaners' color.
Added Fragrance is the ingredient that creates a different smell for each product. However, Fabuloso manufacturer does not disclose the exact types of Fragrance.
Varieties of Fabuloso provide us with more choice when it comes to fragrance cleaners. You absolutely can find yourself a fragrance that suits your taste.
We have a fun fact for you. Do you know that Fabuloso® Citrus and Fruits with Baking Soda contains Sodium Bicarbonate?
Is baking soda an extra cleaning factor? It only helps with acidity balance.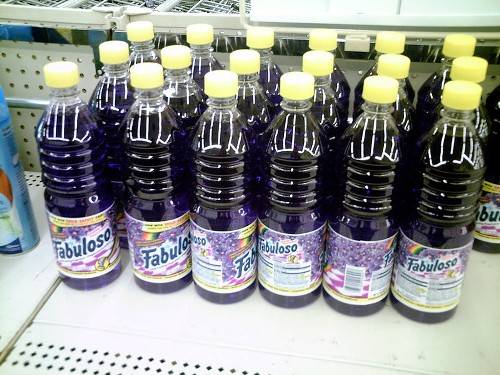 Does Fabuloso Have Ammonia in It?
What makes you concerned while using Fabuloso cleaner is the ammonia in the product? The manufacturer does not mention ammonia in the ingredient list. Your Fabuloso cleaner is ammonia-free.
We can hardly discover ammonia by its stinky smell since Fragrance in the product is very strong. Besides, if you handle ammonia correctly, it is a cheap and effective cleaner, especially for glasses and mirrors.
Read: Pine-Sol Vs Fabuloso: Which One Is A Better Choice
Is Fabuloso a Good Cleaner?
In case that you are looking for a multi-surfaces cleaner for your house, Fabuloso is worth your money. You can clean your floors, kitchen, bathroom, window glasses, and every hard surface in your area.
A bottle of Fabuloso usually could last you very long due to the large volume and its dilutable texture. You can mix Fabuloso with water to clean the floor or pour it into a spray bottle to make it easier to apply on the surface.
One more reason for you to purchase a Fabuloso bottle is that it is super easy to use. If you find mixing natural cleaner too complicated, this product will be your best assistant in cleaning.
You only need to clean with Fabuloso, and your place is good to use. You don't have to rinse with water and see any visible residue on the surface after cleaning with Fabuloso.
Fabuloso is also famous for its creative cleaner's Fragrance. You can choose between the fruity, floral, and seasonal Fragrance. After cleaning with Fanuloso, your place will not only be clean but also smell nicely.
In Short
You can see that the ingredients in Fabuloso are simply cleaning chemicals, preservation, and Fragrance. There are no toxic or harmful ingredients in the product.
We hope that you can find your expected answers in our blog. Thank you for liking and subscribing to our blog.
Related Post:
Does Bleach Kill Fleas? What Is Scientific Evidence?
Is It Safe to Clean a Microwave with Bleach? – How to Clean a Microwave Safely