Ever since I moved into our new house, I've been on the hunt for a way to cover up the ugly, worn-out wood floors. My first idea was refinishing it as we had in our last home. It didn't take me too long before I realized it wasn't as easy as it sounded! Still, I was lucky enough to find a more creative method – painting our wood floors!
Yes, I did it. Though the painting demands meticulosity, I was able to produce more remarkable results than expected! If you are thinking about painting your wood floors and want some advice from someone who has lived in painted homes for over ten years, you've come to the right place! 
I'm glad to share some painted wood floors pros and cons and tips to repaint your wooden flooring in this post. Keep on reading!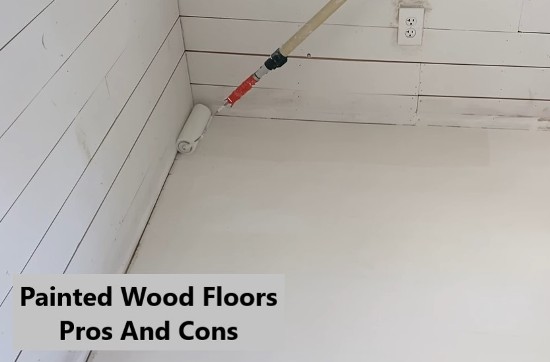 Painted Wood Floors Pros And Cons
This part will provide you with some insights into the benefits and drawbacks of painting your wood floors based on my experience.
Painted Wood Floors Pros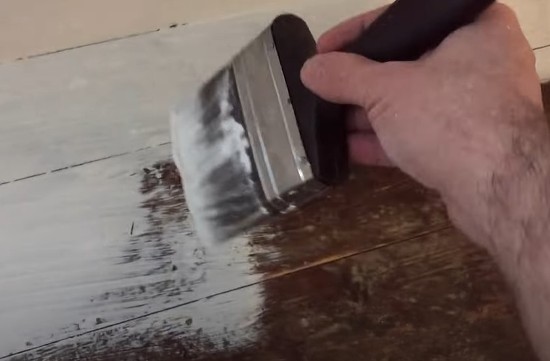 Budget-Friendly Upgrade Option
One of the most common ways to restore a wood floor is by refinishing it. This process includes stripping, sanding, then repairing the floor and applying multiple coats of finish and sealer. 
The job requires proper equipment and essential skills, so it could be challenging for DIYers to obtain decent outcomes. If you want a high-quality finish, you'll have to pay for both materials and labor.
Painting wood floors also takes you time and effort, yet it's in your power! Most homeowners find that they are skilled enough in this area with some practice, saving them money on labor.
Painting is the perfect solution for heavily damaged floors. What if you have an old, poorly maintained wood floor that's needed restoration, but it would cost too much to replace or restore them entirely? Surely you don't want something ugly anyways, so painting will give your space a fresh new look without spending much money!
Good Opportunity To Get Creative
A change in the color of your floor can make all the difference. By painting your floors, you are adding a beautiful color blend to an otherwise boring room with the traditional neutral shades. 
It's also an excellent way for you to go for a more unconventional color instead of standard staining or other wood types.
Wood can take on any color or pattern imaginable, so there's no telling how awesomely unique this change could make everything feel fresh again – and everyone wants more fun things in life, right?
Think of the possibilities with painting your floors! You can create a checkerboard pattern, inscribe family members' names, write favorite quotes in an elegant script font on the floor, or add an individual touch to your living space.
Manipulate Light And Room Size
Painting a wooden floor is a lot like picking the primary feature color: you have to consider the size of the room and the amount of natural light the area receives. For example, white-painted wood floors work well for small spaces.
Easy To Clean And Maintain
It's always difficult to keep those high-traffic areas looking clean all the time. Nevertheless, as long as you properly seal the painted floors, you will find it easy to clean them. The grooves in the floor won't get dirty or soiled because paint fills them up and prevents any dust from getting through.
Painted Wood Floors Cons
Reduced Durability
Wood floors are a beautiful and timeless addition to any home, but they have one major flaw: the paint wears off quickly. While stain soaks deep into the floor, paint only sits on the surface, making it less durable.
Fortunately, oil paint on wood floors is preferable to latex because of its greater longevity. Still, some states prohibit using them at home due to their strong odor. Before purchasing oil paint, make sure that you can legally do the job in your state.
Not Suitable For All Kinds Of Home
Painted wood floors are typically found in homes, but this is not always the case. A painted hardwood flooring, for example, can be seen on a colonial-style house – an odd choice that takes away from its historical aesthetic. Alternatively, you can add anything to it with refinishing services offered by professionals, but the matter is: it costs you more!
Lots Of Work Involved
Even with drying time, having your floor refinished will just take about 3 days in total to complete. On the contrary, it takes lots of effort and time to paint your wood floors.
The first step will be removing any finishes on your floors, including sanding and cleaning the floor. After 48 hours of dry time, the floor requires light sanding to aid in the adhesion of the paint before mineral spirit cleaning is performed.
All of these steps are involved in painting a wooden floor. After that, you can paint the floor and let it dry for 24 hours between each coating, followed by one coat of urethane sealant!
Correction Cost
It's more difficult and expensive to restore a wood floor to its former state than to restain it. Before staining occurs, the floor needs sanding and cleaning with a floor stripper to get rid of the paint completely!
If you change the decision, it's always tricky to go back and start over.  It's best to think things out thoroughly before painting your wood floor to avoid regrets later.
What Are The Tips to Repaint the Wooden Floor?
It's a daunting process to paint your floor, but with patience and skill comes success! I've piled up some tips for you to repaint the wooden floor below.
You can get creative on your floor with stencils and adhesive tapes to create intricate designs. Remember to utilize a smaller brush size to deal with tiny patterns.
The faint fumes from the paint can make you sick if exposed to them too long. When repainting your wooden flooring, it's essential to find somewhere to stay temporarily. You should allow at least one week for the flooring to dry completely.
Don't risk arbitrarily choosing whatever paint to use for every corner of your house. It would be wise to consider high-traffic areas so that you can select the right paint type for those places. 
Paint like oil-based enamel and porch will protect against wear and tear from high foot traffic. Having black-painted wood floors adds a sophisticated, upscale feel while also hiding the wear and tear caused by heavy foot activity.
Also, keep in mind that painting the wooden floor will take time. It requires you at least two weeks, including time for sanding, applying coats, and the actual painting.
Final Thoughts
I've just shared with you my thoughts on painted wood floors pros and cons. As you've seen, there are a few things to consider before painting your wood floors. 
However, it is so worth the hassle if you have the time and patience for this type of project. Just make sure to do plenty of research beforehand, so they turn out exactly how YOU want them. Hope you will do a good job!
Related Post: