While searching for a cleaner product for your hardwood floors on Amazon, the name Swiffer WetJet came to your attention? According to the product advertising and introduction, this cleaner spray is an all-in-one super powerful cleaner that can dissolve the toughest dirt on your floor. 
So, can Swiffer Wetjet be used on hardwood floors without leaving behind any damage? If that's what disturbs you, we are glad to say that it will disappear after you read this blog!
We – Hardwood floor experts with several years of experience in designing and maintenance hardwood will help you answer all your inquiries towards cleaner products for wooden floors! Today, we would like to discuss this currently popular cleaner – Swiffer Wetjet. Read on!
Can Swiffer Wetjet be Used on Hardwood Floors?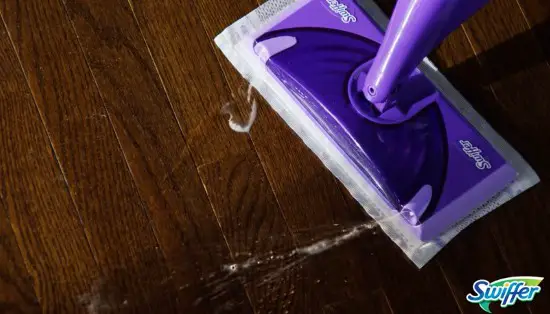 Yes, you can, and nothing bad will happen. We recommend using the Swiffer Wetjet Wood starter kit, which has a flexible head capable of moving under the most narrow areas. 
If your floors have sticky messes, give this spray solution a few pushes, and your floors shall come back to their natural beauty. Additionally, it would be best if you also purchase the extra pads for long-term use.
How To Use A Swiffer Wetjet On Hardwood Floors?
Though you can apply Swiffer Wetjet on hardwood floors, you must understand how to use the product properly for the best result. We have listed down some steps for you to follow:
Clean Your Floor First. What Else Could It Be?
Clean the floor surface, wipe up spills, and put unnecessary items in the trash. Use a broom to sweep all dust crumbs on the floor surface; we suggest you use a soft brush or Swiffer dry sweeping cloth.
Sweep in a direction parallel to the hardwood flooring. In this way, you can clear any debris in between the grooves and the floorboards. 
A small reminder, refresh the floors every day if you want it dirt-free and shiny! Avoid leaving it without cleaning for too long. Otherwise, the stains will be more challenging to clean. Small hard particles on the floor can scratch the surface, the floorboards and lose their original shine.
Make Your Floor Cleaner With A Vacuum Cleaner
We are not actually a fan of vacs, but in this case, we can say the vac from Swiffer is here to save the day!
Use a Sweeper+Vac to suck it all up. Simple! With strong suction, the air inside your house will be much fresher, which will give you a better mood. 
Don't Give Your Floors A Shower. That's Right, You Hear Me!
In fact, you don't really have to clean the floors weekly. One or twice a month is enough. Believe it or not, cleaning solutions sometimes can be a part of the problem, so don't overdo it if you want your floor to be in good condition in the long term.
The hardwood floors often have a certain matte finish and are easy to peel off when exposed to water. Thus, high-detergent wood floor cleaners such as chemical cleaners are not recommended.
The advice for you is to use biological cleaners like Swiffer Wetjet. To be more specific, WetJet can remove all the tough residue on the floor without damaging the surface thanks to its natural ingredients. Attach a pad, insert a cleaning solution, spray, and say goodbye to the dirt! 
In addition, a note for you is to avoid water seeping into the wooden floor!
Conclusion
Can Swiffer Wetjet be used on hardwood floors? The answer is a big YES. This cleaner can remove all the annoying residue on the floor and help it return to a classy ageless look. 
As mentioned above, Swiffer Wetjet is made from natural ingredients that can powerfully get rid of all tough dirt without harming your surface in long-term use.
So far, the only issue we have with this product is that it requires you to purchase extra pads. But overall, we think that Wetjet is a convenient piece of equipment that satisfies our needs. 
Attach the accessories, give your floor a few pushes, say goodbye to the dirt and grime!
Related Post: